Reference evapotranspiration (ETo) image data, calculated using three methods, are available here for download for PR, USVI, Hispaniola, Jamaica and Cuba, through yesterday. ETo data are in units of millimeters. The three ETo methods include: Penman-Monteith, Priestly-Taylor and Hargreaves-Samani.   Other climate parameters are also available (i.e., min, max and avg. air temperature, saturated and actual vapor pressure, and solar and net radiation).
DAILY REFERENCE EVAPOTRANSPIRATION AND OTHER CLIMATE PARAMETER IMAGES FOR
PUERTO RICO
ST. CROIX, USVI
ST. THOMAS, USVI
ST. JOHN, USVI
HISPANIOLA
JAMAICA
CUBA
DISCLAIMER: The information is provided "as is". The authors and publishers of this information disclaim any loss or liability, either directly or indirectly as a consequence of applying the information provided herein, or in regard to the use and application of said information. No guarantee is given, either expressed or implied, in regard to the accuracy, or acceptability of the information.
YESTERDAY'S REFERENCE EVAPOTRANSPIRATION FOR PUERTO RICO, ST CROIX, ST. THOMAS, HISPANIOLA, JAMAICA AND CUBA

PUERTO RICO (click for more information)
Yesterday's GOES-PRWEB data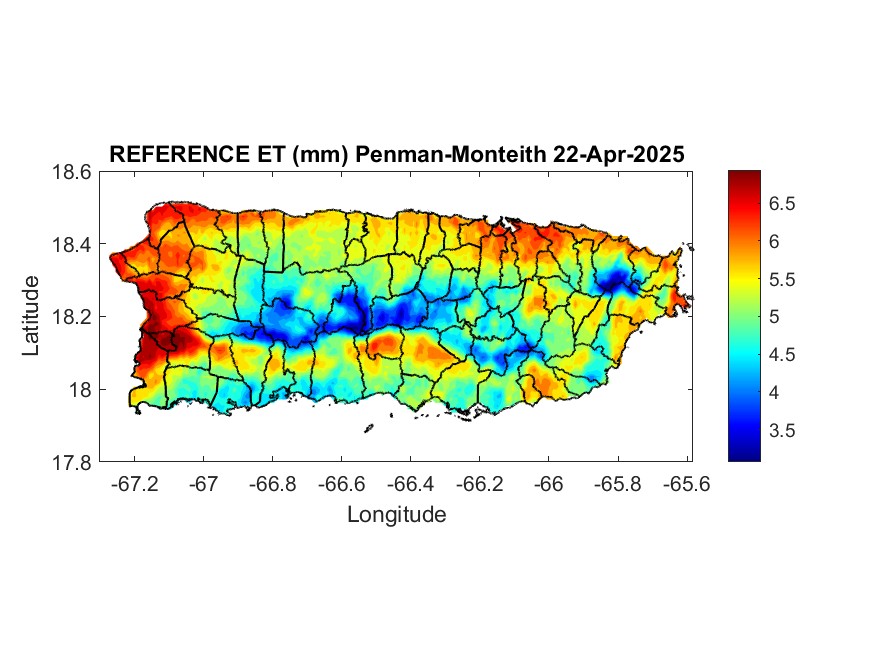 ST. CROIX, USVI (click for more information)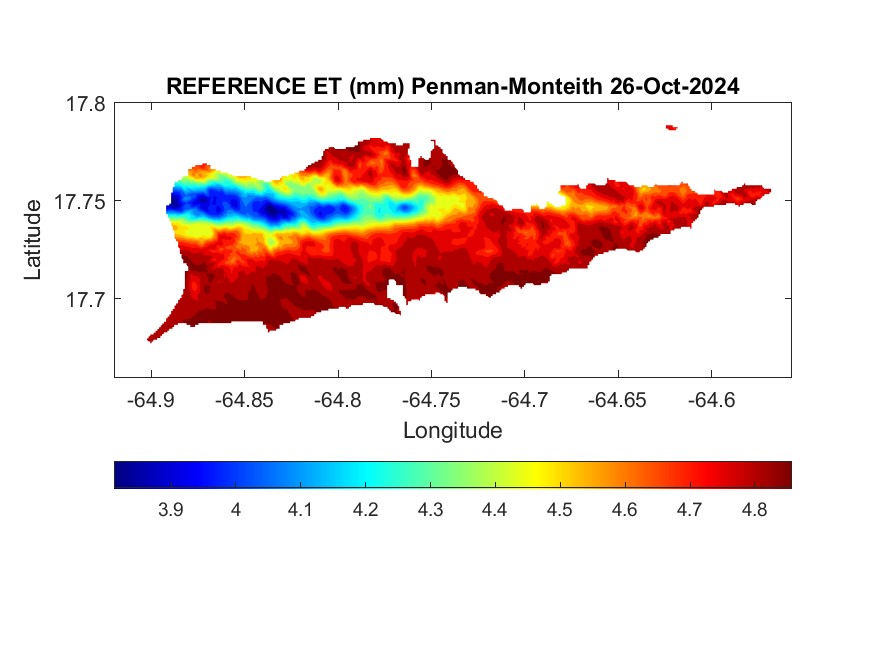 ST. THOMAS, USVI (click for more information)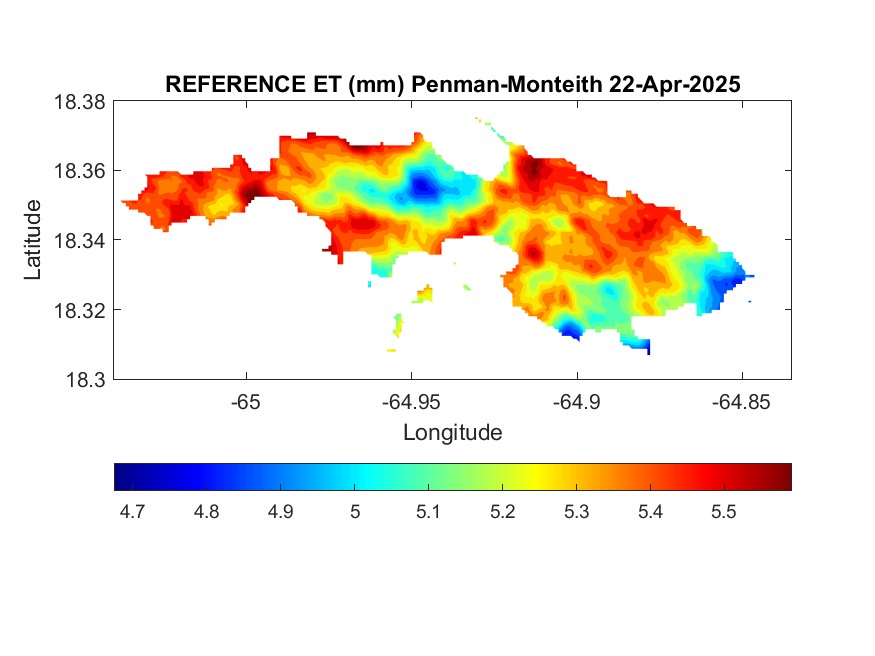 ST. JOHN, USVI (click for more information)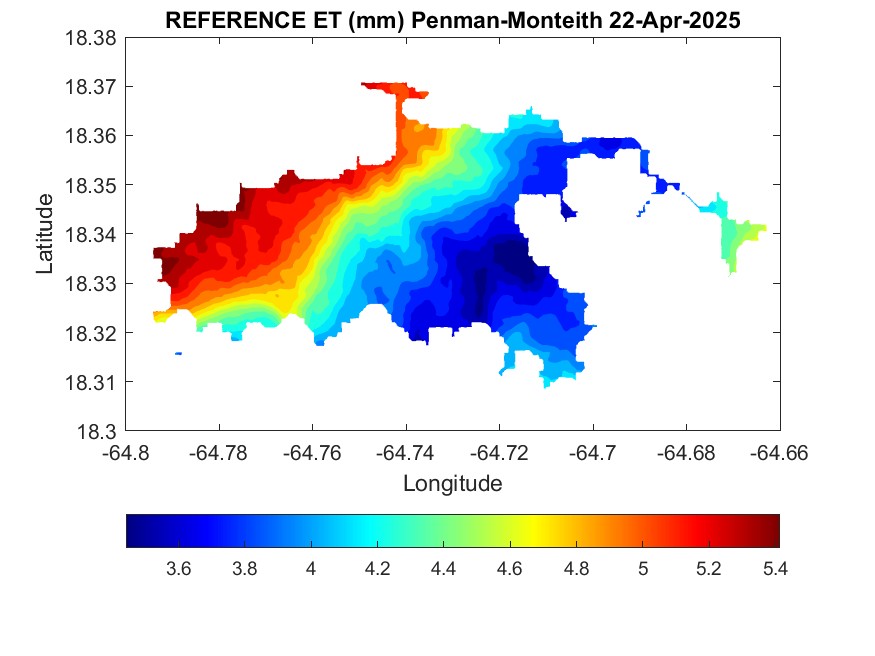 HISPANIOLA (click for more information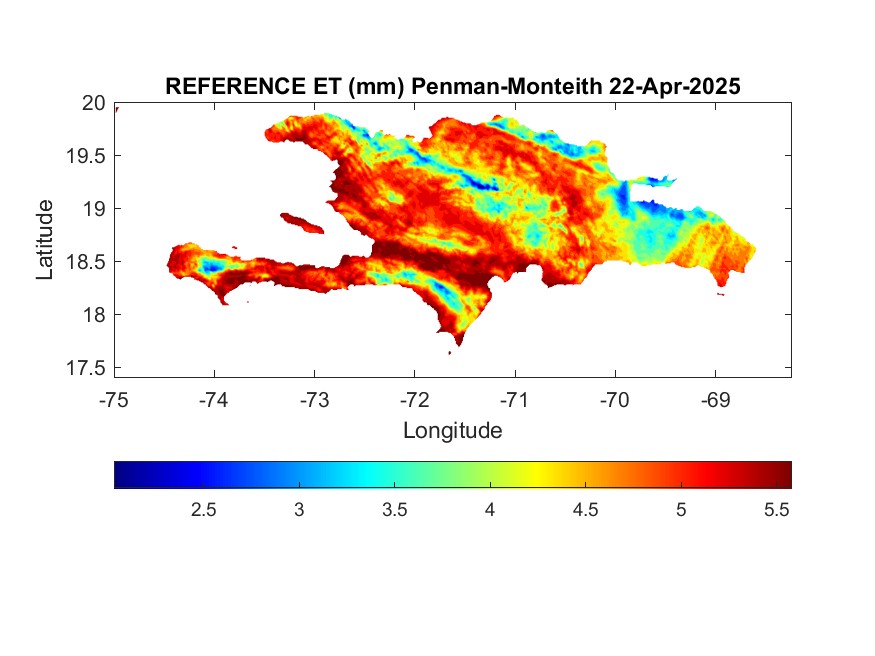 JAMAICA (click for more information)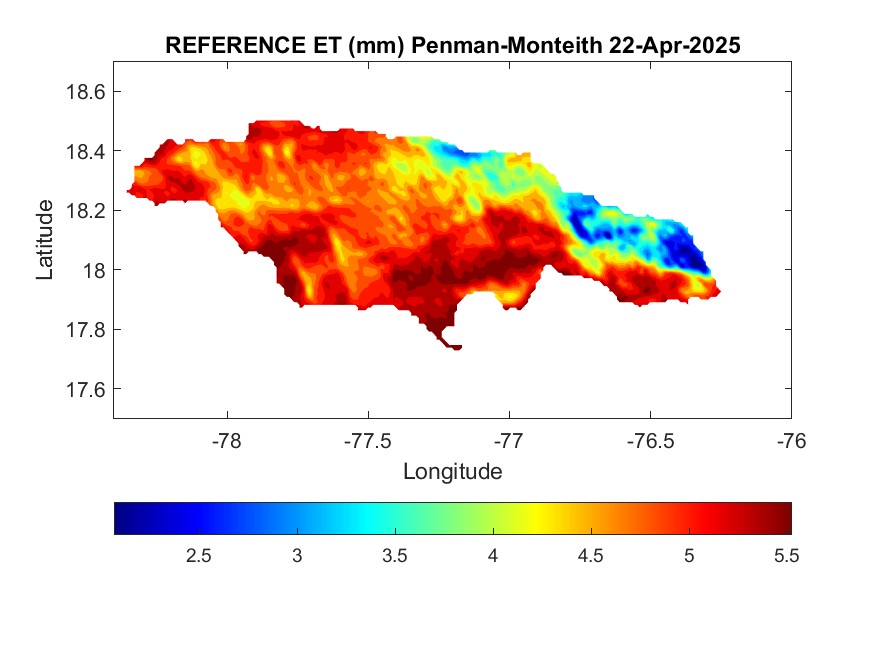 CUBA (click for more information)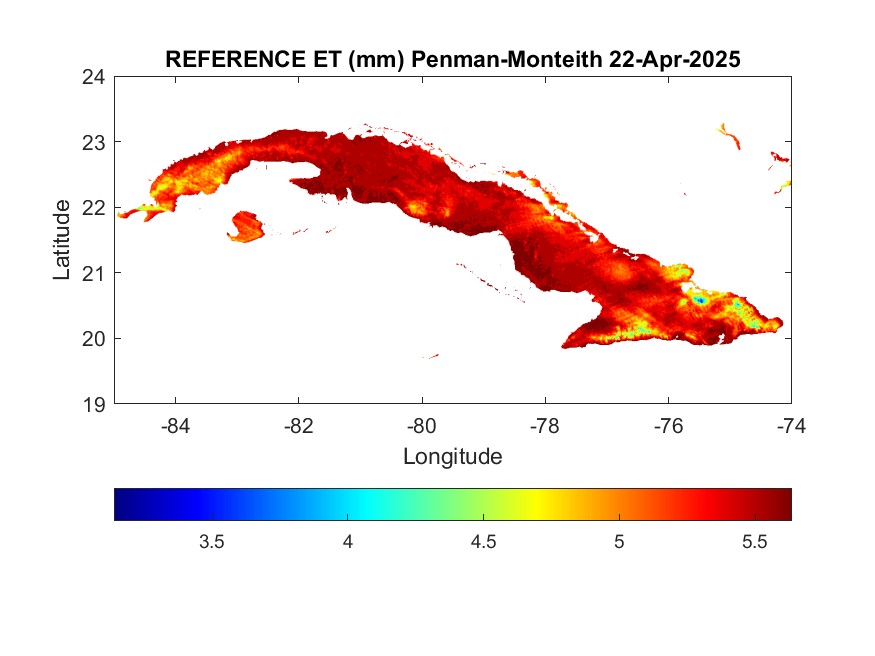 Practical Application of Reference Evapotranspiration for Irrigation Scheduling
The following reference provides a simple methodology which can be applied to save water, fuel and money:
Harmsen E.W., 2012.  TECHNICAL NOTE: A Simple Web-Based Method for Scheduling Irrigation in Puerto Rico.  J. Agric. Univ. P.R. 96 (3-4) 2012.
The following presentation may also be helpful.
An Agricultural Application of GOES-PRWEB.  Presented at the 8th Annual NOAA CREST Symposium, The City College of City University of New York, NY, June 5-6, 2013.pdf
Detailed description of the methodology is provided in the following paper:



Harmsen, E.W.; Mecikalski, J.R.; Reventos, V.J.; Álvarez Pérez, E.; Uwakweh, S.S.; Adorno García, C. Water and Energy Balance Model GOES-PRWEB: Development and Validation. Hydrology 2021, 8, 113. https://doi.org/10.3390/hydrology8030113
Some specific method assumptions for Hispaniola, Jamaica, the USVI and Cuba include:
1. Wind speed at a 2-m height is assumed to be the world-wide average of 2 m/s, recommended by the United Nations Food and Agriculture Organization (Allen et al., 1998).
2. Average, minimum and maximum daily air temperatures are estimated using a lapse rate approached developed for Puerto Rico (Goyal et al., 1988).
3. The dew point temperature (used to estimate the actual vapor pressure) is assumed to be equal to the daily minimum temperature (Allen et al., 1998).
Reference
Allen,  R.  G.,  L.  S.  Pereira,  Dirk  Raes  and  M. Smith,  Crop  Evapotranspiration  Guidelines  for Computing  Crop  Water  Requirements.  FAO
Irrigation  and  Drainage  Paper  56,  Food  and Agriculture  Organization  of  the  United  Nations, Rome. 1998, pp. 300
Goyal, M. R., E. A. González, C. Chao de Báez, 1988. Temperature versus elevation relationships for Puerto Rico. J. Agric. UPR 72(3):449-67.
Harmsen, E. W., J. Mecikalski, A. Mercado and P. Tosado Cruz, 2010. Estimating evapotranspiration in the Caribbean Region using satellite remote sensing. Proceedings of the AWRA Summer Specialty Conference, Tropical Hydrology and Sustainable Water Resources in a Changing Climate. San Juan, Puerto Rico. August 30-September 1, 2010.
Acknowledgements:
This research received partial funding from the following sources: NOAA-CREST (grant NA06OAR4810162) and USDA Hatch Project (Hatch-402). Special thanks to Dr. John Mecikalski for providing the solar radiation data, and Alejandra Rojas for providing various GIS maps used in this research. I would like to thank my student, Victor Reventos, who made this possible through his Python programming skills.